"I am Her Serene Highness Princess Theresa Gustafa Bonaventura of Lichtenstein, Countess of Spondheim, and Protector-Extraordinary of the Cantons of Nim. Who are you?"
―Princess Theresa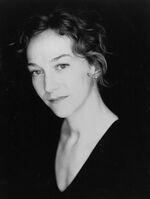 Princess Theresa is the princess of Lichtenstein who is portrayed by Matilda Ziegler and who appears in multiple episodes, starting with her appearance as passenger of the week in series four's episode "Vaduz". She is the oldest of six princesses of Lichtenstein.
In "Vaduz" she phones MJN Air in order to book a flight for her and her younger brother, The King, to travel from Vaduz to Fitton. When she introduces herself Both Martin and Douglas think that this is a prank phone call the other is playing on each other and instead of taking the call seriously they make sarcastic suggestion.
Martin suggests that Theresa is phoning because she needs help dealing with a dragon and Douglass starts inserting the names of musicals into the conversions as Theresa said "The King and I". They don't think that the call is genuine until Theresa suggests that they Google 'Theresa' and 'Liechtenstein'. Martin "follows protocol" and puts on his Medal for meeting with the Royals, which are a " air Cadet Forces Medal" for being in the air cadets and a "Millennium Star" for being alive in the year two thousand!
When they arrive at the castle the door is answered by Theresa who they mistake for a member of staff as she's answering her own door. She gets on rather well with Martin Crieff during the flight but does tease him about his Dragon comment. She sees his medals and awards him the Star of Liechtenstein, Wreath of Liechtenstein and the Little Wobbly Stick of Liechtenstein.
When Martin accidental orders more fuel than the plane needs, meaning that they are able to take off but are too heavy to land and so circle around the Fitton airport to burn off enough fuel. When Carolyn finds out that they are delayed and have been circling around she is angry but Theresa covers for Martin with Carolyn and gets him out of trouble by pretending that they have been waiting for her land as she, as a princess, needs to greeted properly.
Martin thanks her and asks how her can ever thank her and Theresa hints that she wants him to ask her out but accepts Martin suggestion of a trip to Duxford Air Museum with him. Her and Martin end up going out on several dates and start dating each other.
Personality
Edit
Theresa surprises Martin and the other by not acting like a typical member of the Royal family, with herself describes herself as "Not like that". She is also knowledgable about aeroplanes and aviation, correctly deducing that they are trying to burn off fuel and it is an interest that she shares with Martin.